The impact of 3D printing on the dental field - paradigm shift and future trends
---
Ram Tenneti and Jai Prakash Yadav of Sagacious Research contributed this research article detailing the impact of 3D printing on the field of dentistry.
The compatibility of scanning, visualization, computer-aided design, milling and 3D printing technologies, combined with people's natural curiosity and creativity, has brought the field of dentistry into an exciting era.
With 3D printing playing an increasingly important role in dentistry, this article explores potential changes to the technology based on patent landscapes and changing filing trends.
There's a lot of hype around 3D printing's applications and it's been labelled as a disruptive technology that will change manufacturing forever, but it's actually a long way off. While some application areas, such as 3D printed organs, dentistry, oral and maxillofacial surgery, do utilize CAD alongside digital fabrication and are fully moving towards a new era of possibilities, there are still some obstacles and limit.
This article will explore the origins of 3D printing and why it has become a key technology. Through this research, we will help relevant people and companies in the industry to understand the changing market dynamics and take effective measures to meet the globalized competitive market and make the world a better place with the help of breakthrough technologies in the dental field.
Patent applications in the dental field originated in 1984. We studied and analyzed 3D printing patents involved in the dental industry and found that companies like 3M, Mitsui Chemicals, Dentsply Sirona, Bego Medical, Align Technology, Glidewell, Straumann and 3Shape are actively protecting Their patented intellectual property rights.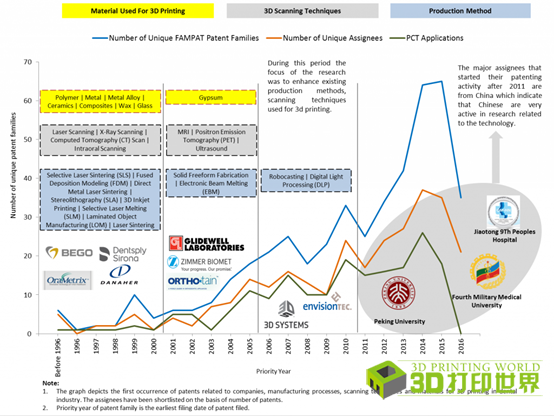 Figure 1: 3D printing processes, technologies and materials used in the dental industry, along with patent filing dates and trends
The number of patent filings in 2011-2015 was down from previous years, but overall, it has been growing rapidly in recent years. Prior to 2008, invention patents mainly tended to use 3D printing to make dental molds and prosthetics. In addition, a number of patents related to stereolithography expired in 2008, and many companies are free to use these technologies for commercialization. Patent filings have been declining since 2008 in order to commercialize free-to-use invention patents. Since 2008, the focus has shifted to the fully digitalized area of dental product production. Research shows that mass production in the dental sector will be a priority, followed by sustainable solutions to improve the appearance of end-use and custom products.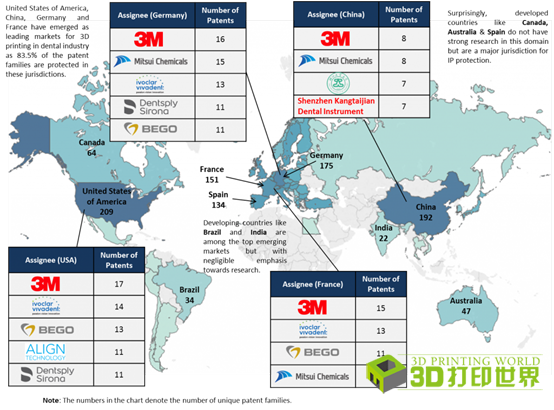 Figure 2: The US, Germany, China and France have emerged as technology-leading markets
Patents filed by different companies suggest that these companies are seeking a potential market for their patented inventions. According to different patent applications, we can know which companies have applied for these patents.
3M has been leading the way in protecting its own technology, while Align Technology is primarily active in the US market.
Most of the research has focused on the United States, followed by China and Germany. Since 2011, China has become one of the major research countries, with over 91% of Chinese patent filings during this period. Since 2011, the number of inventions researched in China has accounted for 39% of patent applications.
Why is 3D printing critical to the dental industry?
Dental 3D printing solves many problems, such as denture positioning, customization requirements, denture retention, etc. Figure 3 shows the distribution of patents by problem solving to further improve existing systems.
Other challenges are as follows: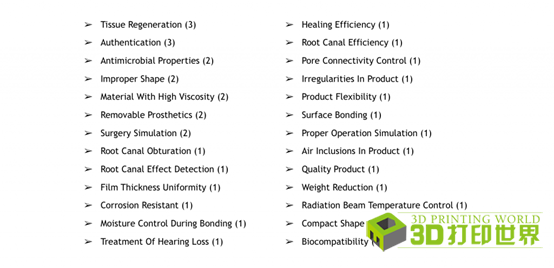 The numbers in parentheses represent the number of patents corresponding to the respective technical challenges.
To discover the potential of the technology field, Sagacious conducted a SWOT analysis based on patent trends.。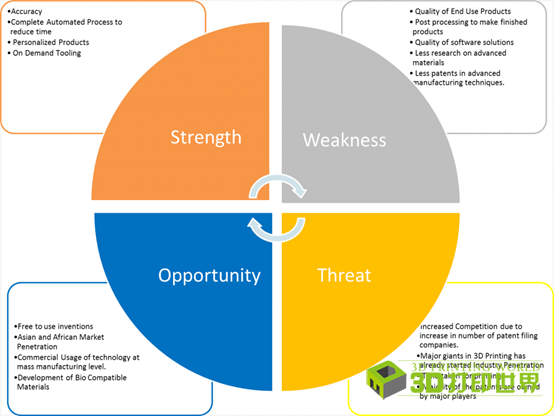 Sagacious research ©2017
Main business location:
There are 462 patent families related to 3D printing in the dental field, owned by 196 different companies and universities.
Some companies have filed patents since 2011 and have shown a consistent interest in intellectual property protection related to materials, printers and scanners. Most of the new patent applications are from China.
Many Chinese universities, such as Zhejiang University and Zhejiang University of Technology, demonstrate their R&D activities only by filing patents in China. These universities are great opportunities for collaboration.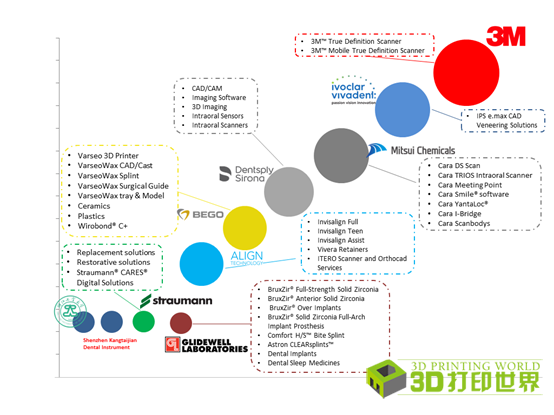 Note: The size of the bubble identifies the number of patent families owned by each company. What's next?
The most significant advantage of 3D printing is in bringing it to the level of mass production and speeding up the time to manufacture products. Companies like Align Technology, Dentsply Sirona and 3M have been working hard to find solutions for large-scale manufacturing using 3D printing technology. Align Technology has proposed the first patent US6976627 related to personal mass customization, which uses three-dimensional barcodes embedded on 3D printed objects to identify part information. These 3D barcode information represent the corresponding 3D data and facilitate the use of additive manufacturing techniques to manufacture parts for later use. A CCD camera can read barcodes to obtain relevant 3D model information so that new 3D printed parts can be manufactured when needed. Invisalign, an Align Technology brand, sells aligners and retainers, both of which are produced using 3D printers. Align Technology employs mass customization techniques to create unique medical devices on a larger scale.
Dentsply Sirona also filed a patent WO2016187155A1 in 2016, heralding an increase in 3D printing speed from the existing speed to another level. The patent discloses its method of 3D printing, which omits a step - it does not require additional rays to prevent the solidified liquid from separating from the transparent window at the bottom of the tank for the next step of printing. 3D printers can employ digital light processing, stereolithography and lighting techniques. The patent helps improve the efficiency of 3D printers. The current focus is on mass production of 3D printed end-use products and extending product life.
The next step is to focus on how to mass-produce end-use products through 3D printing and improve quality overall. Companies are looking for solutions to shorten manufacturing time, increase mechanical strength, improve manufacturing accuracy and similar issues to ensure the best quality and cutting edge solutions for end-use products.
We believe that 3D printing is ready to burst forth as a viable alternative to conventional manufacturing in a variety of industries. With this revolutionary shift, more and more businesses are following along with these major players to see how they can improve their products and start to re-examine their businesses and the impact this technology can have on the business ecosystem as a whole. influences.
SAGACIOUS IP is a global company that provides total IP solutions. A top-notch team of technical and legal experts uses cutting-edge tools to produce risk-reducing research reports and provide them to corporate groups and patent law attorneys at reasonable prices. office. Sagacious IP has won awards from CNBC and Red Herring for its outstanding performance in related industries.
Keywords:
---


F2 Building 6A Jintong National Industrial Park No.8 Xihu Road Wujin District Changzhou City Jiangsu Province China
---